Maine's Finest Computer Services. Both in home or office. Repairing or upgrading all makes and models of computers and laptops. In addition, if your computer won't boot, takes too long to load or runs poorly, that can be remedied. In short, just Email, Phone or use the Contact Form to Get in Touch for all your Computer Services needs.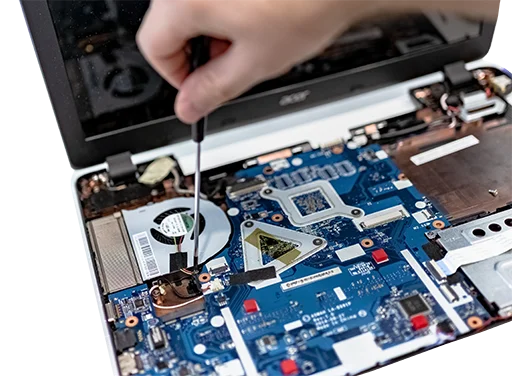 Specializing in hardware trouble shooting and resolve. Repair or upgrade any components. Power Supply, Memory, Hard-Drive, Motherboard, Optical drives, Sound card, Video card, Network card, Laptop screens and all forms of computer services.
Virus and malware problems can be a big headache for computer users. A virus is a type of program that can spread from one computer to another and cause harm to your computer. Malware is a type of program that is designed to do bad things to your computer, like stealing your personal information or damaging your files.
To protect your computer from viruses and malware, you should always backups and be very carful on opening attachments or clicking on links. If you do get infected it is best to have a professional clean your computer.
Also, If you do happen to get infected with a virus or malware, it's important to take action to remove it as soon as possible. The longer you wait, the more damage it can do to your computer.
By staying vigilant and taking the proper precautions, you can help protect your computer from viruses and malware and keep it running smoothly.
Many services can be done remotely. Due to your needs and schedule, remote services may be a better fit for you. If it can be done remotely, than this option is for you. Team Viewer Download
A remote connection to your computer is completely safe. You can have the peace of mind knowing that full encryption RSA private, public key exchange and AES 256 Bit encoding is in use. These are the same standards that are used in HTTP/SSL.
Remote connection computer services and repair is a way for someone to fix problems with your computer from a distance. Instead of the person physically coming to your house to fix your computer, they can connect to your computer through the internet and work on it from wherever they are.
This is a great option because it can save time and money. You don't have to wait for someone to come to your house and you don't have to pay for their travel expenses. Plus, the person helping you can often fix the problem faster because they can work on it right away without having to travel to provide computer services.
To get remote computer services and repair, you need to have a good internet connection and a program that allows remote access. This program will let the person helping you see your computer screen and control your mouse and keyboard.
It's important to only let someone you trust connect to your computer remotely, and to make sure you have a backup of all your important files just in case something goes wrong.
Whether you are young or old, just starting out, or an intermediate user, technology tutoring can be a great help. Due to constantly changing technology it can be difficult to keep up.
Remote Tutoring or in person at your speed because we are all different, insuring that you have a solid understanding of what you're doing. Learning in a way that is comfortable for you. Tutoring both in-home or remotely available.
Technology and computer tutoring is a way for someone to teach you how to use technology and computers. It's like having a personal teacher who can show you how to do things step-by-step.
Tutors can help you with all kinds of things, like using software programs, setting up devices, troubleshooting problems, and even coding. They can also teach you how to use technology to make your life easier and more efficient, like how to organize your emails or use online tools for your projects.
Tutoring can be done in-person or online. Online tutoring can be especially helpful because you can learn from anywhere, as long as you have a computer and an internet connection.
If you're interested in technology and want to learn more about how to use computers and other devices, technology and computer tutoring is a great option. It can help you become more confident with technology and open up new possibilities for you in the future.